Invitation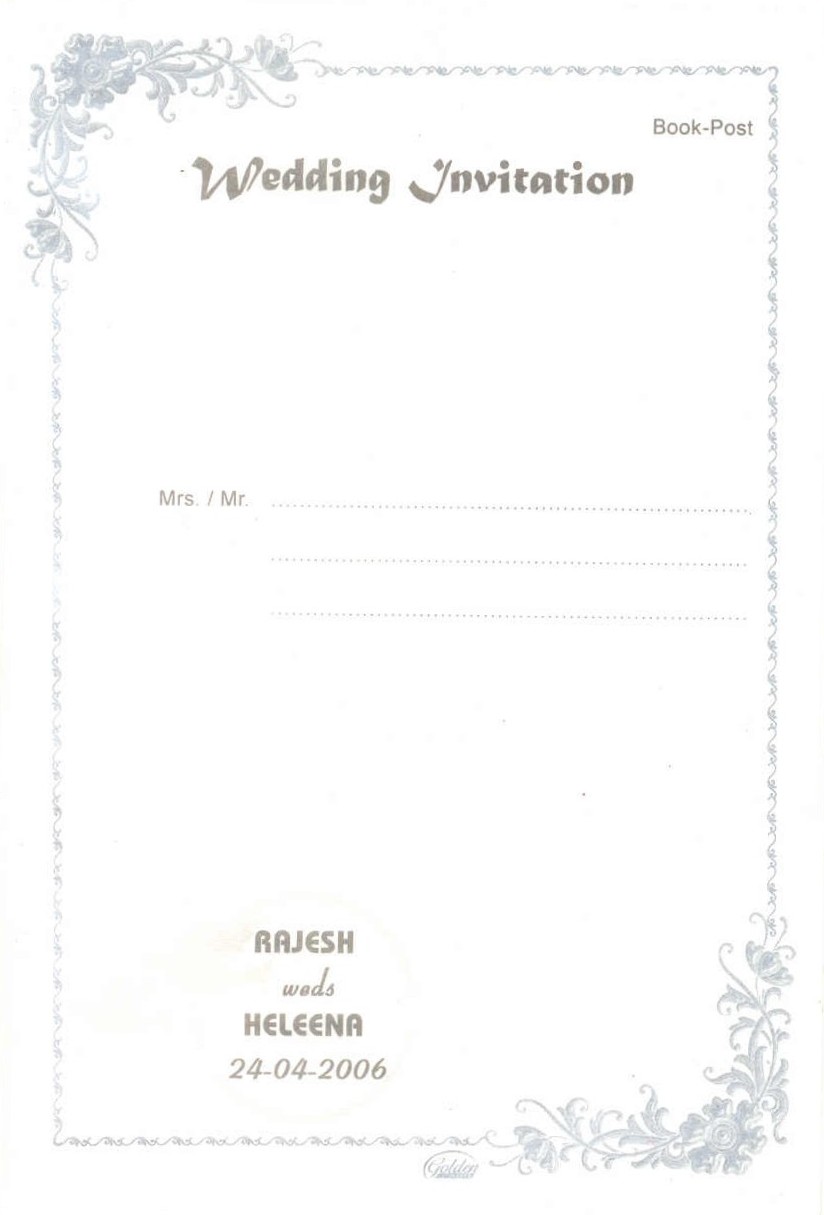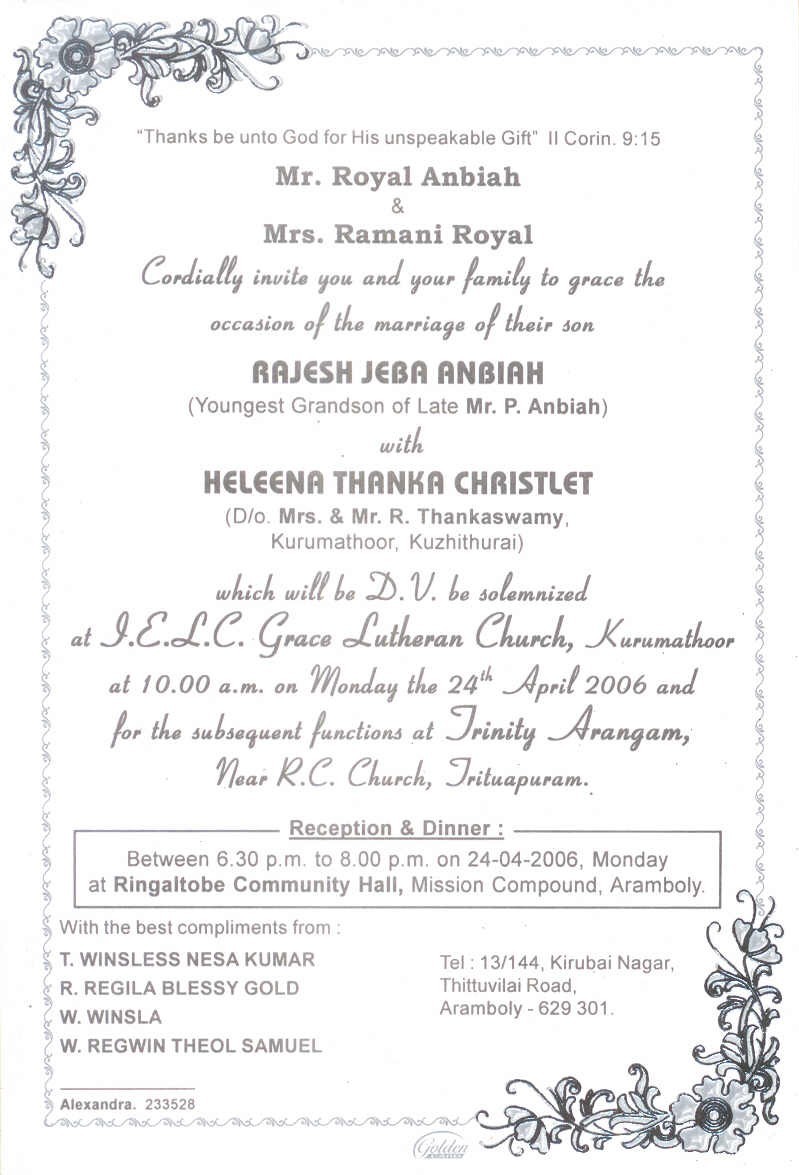 R. Rajesh Jeba Anbiah Weds T. Heleena Thanka Christlet
Date: April 24, 2006 10:00 am
Place: I.E.L.C Grace Lutheran Church, Kurumathoor, Kuzhithurai, Kanyakumari District
Functions
Time
Place
Remark
April 23, 2006 4pm-7pm
Trinity Arangam, Near R.C. Church, Trituapuram, Kuzhithurai
Dinner for relatives and friends at bride's home (This has to be ignored if you're invited by groom; see below for groom's function)
April 23, 2006 4pm-8pm
Groom's home, Aralvaimozhi
Relatives and friends get together
Snacks and supper for close relatives and friends from far away places
April 24, 2006 6am-7am
Breakfast for close relatives and friends from far away places
7am
Leaving to bride's place (Kuzhithurai)
9am
Trinity Arangam, Near R.C. Church, Trituapuram, Kuzhithurai
Reaching bride's place
Receiving welcome and attending engagement functions
10am
Bride's church
I.E.L.C Grace Lutheran Church, Kurumathoor, Kuzhithurai
Reaching church
Knot tying and other formalities
11am-2pm
Trinity Arangam, Near R.C. Church, Trituapuram, Kuzhithurai
Minor entertainment
Taking bride's dinner
2pm
Leaving to groom's place
Bringing bride (alone) to groom's place
6:30pm-8pm
Ringaltobe Community Hall, Mission Compound, Aralvaimozhi
Receiving bride's parents, relatives and friends
Groom's dinner
Places
Map
Place
Distance
Running hours
Travel cost
Mode of transportation
Specialities
From
(Km)
ஆரல்வாய்மொழி Aralvaimozhi (in English Aramboly or Aramboli) (info)
Chennai
714
12-16 (Average 13)
Omni bus: 400
Train: 281
Train and bus (Egmore, Central and Koyembedu)
Village
Hottest place in Kanyakumari
Having features of desert
Known for bunch of windmills
Infamously known for people having dark skin
நாகர்கோவில் Nagercoil (info)
Aralvaimozhi
15
00:15-00:30 (Average 20mins)
Route bus: 5
City bus: 2
Train (lower frequency, don't depend on it) and bus
City
Capital of Kanyakumari District
Groom's home (Landmark: Next to New Jerusalem Church on Thittuvilai main road)
Aralavimozhi bus stop
1.5
00:05-00:20 (Average 15mins)
Auto: 15
By walk: 15mins
By auto: 3mins
குழித்துரை Trituapuram, Kuzhithurai (info)
Nagercoil
37
00:45-1:30 (Average 1:15)
Route bus: 10.50
Train (lower frequency, don't depend on it) and bus. For bus From Vadasery Busstand - Any Trivandrum FP
From Meenakshipuram Busstand - 303 Kaliyakkavilai
Close to Kerala border
Village having river
Trinity Arangam, Near R.C. Church, Trituapuram, Kuzhithurai
Trituapuram bus stop
0.25
5mins
-
By walk.
Cross the road, walk straight in the reverse direction. You'll see an high school, an English school, a Tamil Primary school and an RC Church (Note: This is RC Church--not IELC Church).
Trinity Arangam is next to the RC Church
In this hall bride's family will be found on wedding day. Dinner will be here.
I.E.L.C Grace Lutheran Church, Kurumathoor, Kuzhithurai
Trituapuram bus stop
1.5
15mins
Cross the road, take an auto. Ask for Railway Gate. Get down near the Gate. You'll see the church nearby.

In case there is no auto, walk straight in the 2nd road next to the high school.

In this church knot tying formalities will be conducted.
Lodging arrangements
Since there is no lodges in our place (Aralvaimozhi), lodging will be arranged in Nagercoil. And so, please book your tickets to Nagercoil. Please inform in advance so that lodging will be arranged at ease.
Staying in a lodge in Nagercoil is advised as the places are slightly hard to reach. Please contact me for the lodging arrangements.
Trains to and from Chennai
Please book your tickets to Nagercoil.
| Train No. | Train Name |
| --- | --- |
| 6123 | Chennai Egmore Trivandrum Express [Ananthapuri] |
| 6124 | Traivandrum Central Chennai Egmore Anantapuri Express |
| 6127 | Chennai Egmore Guruvayur Express |
| 6128 | Guruvayur Chennai Egmore Express |
| 2633 | Chennai Egmore Kanniyakumari Exp |
| 2634 | Kanniyakumari Chennai Egmore Exp |
For Train related info visit srailway.com
Frequently Asked Questions
About Heleena?

She is my MCA classmate and also my colleague now.

Is it a love marriage?

No.

Will she continue working with you?

Not yet decided. Possibly she may move to other company.

How long are you taking leave?

April 20, 2006 to May 2, 2006 and possibly from May 20, 2006 to May 31, 2006

Where is Nagercoil?

It's quite closer to Kanyakumari. About 700 Km from Chennai.

Who are those listed in the bottom of invitation?

My sister's family (Brother-in-law, sister, niece, and nephew)

What about lodging?

It will be arranged in Nagercoil. See Lodging arrangements